Show your love for your favorite city every time you write a check! These San Francisco themed personal check designs can be used for any US bank checking account. Several scenic designs featuring photos and illustrations of the San Francisco city skyline and the Golden Gate Bridge, plus a few SF Giants designs for the sports fans. Matching return address labels and checkbook covers are also available.

San Francisco Waterfront and Skyline Personal Checks: Two alternating images: The waterfront and skyline are artfully photographed at sunset on the first image. The second image shows the tranquil waterfront on a wonderful afternoon. See yourself by The San Francisco Bay every time you open your checkbook.

---
Golden Gate Bridge Checks
: The distinctive burnt red color, two soaring towers and rows of suspension cables have been painted in incredible detail with the mountains, waves and twilight sky completing the illustration. Add this artistic interpretation of a modern marvel of engineering to your wallet today.
---
San Francisco Bridge Checks
: The city San Fransisco cannot be mentioned without putting the image of the Golden Gate Bridge in ones head. This four series set of personal bank checks features the iconic American landmark shrouded in the famous San Fransisco morning fog, rendered multifaceted by light of the rising sun. Perfect for the check design for any northern California native.
---
San Francisco Skyline Personal Checks
: The Transamerica Pyramid is featured prominently in the city skyline at night.
---
Golden Gate Bridge Sunset Checks
: Sunset over the Golden Gate, there's few things more satisfying. Show the world that your heart's in San Francisco with these personal checks.
---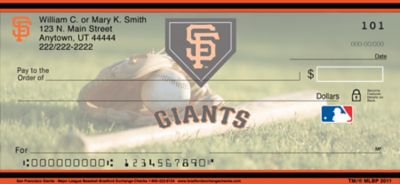 San Francisco Giants Logo Checks
: Celebrate your favorite team with four dynamic designs featuring either an image of a glove, bat and ball with the team name, a Giants baseball in a glove, a baseball field with the team name, or a baseball field with a silhouetted Giants batter. Plus, each of these baseball checks features an orange and black border, the team logo, and the MLB logo to make it an unforgettable and official tribute to your team! These Major League Baseball personal check designs are available from Bradford Exchange Checks, and are expertly re-created with premium-quality check printing. Don't wait to celebrate the team who has won the most games in the history of American baseball. Order your San Francisco Giants personal check designs now!
---
SF Giants Personal Checks
: Get MLB checks for any of the 30 teams available.
---
San Francisco Giants Logo Checkbook Cover
: This Giants checkbook cover is handcrafted of genuine, full-grain leather. High-quality features include premium nylon thread stitching, fabric lining, a clear duplicate check divider, slip-in personal check pocket, and a second pocket to hold cash or receipts.